…."NOISE TAPE REGGAE"….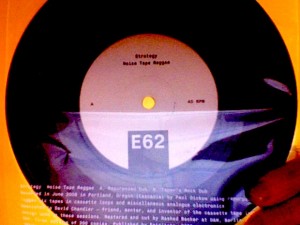 A very nice new 7″ from Portland's own STRATEGY .. (AKA) Paul Dickow.
This music was made using repurposed dusty old reggae mix tapes spliced into loops played back on a 4 track. Mixed live, and processed live using only the finest of analog equipment.
This record is a beautiful adventure of familiar old sounds filtered through a new lens. Dubby fuzzy layers, lots of delicious spring reverb, and some heavy bass. All are very present indeed.
The B side puts me into an unknowing transcendental heavy lidded state every time i listen..
try it at33rpm..? its nice at both.. always a plus!
The vinyl comes in a sealed plastic sleeve. very sexy, took me a week just to break the seal, it looks so nice.
courtesy of the UK based Entr'acte label.
.. buyable HERE
These excerpts are really just teasers… for the full open blooms you gots to buy it!
A : side – "Repurposed Dub" – Noise Tape Reggae – STRATEGY
Audio clip: Adobe Flash Player (version 9 or above) is required to play this audio clip. Download the latest version here. You also need to have JavaScript enabled in your browser.
B: side - "Taper's Rock Dub" - Noise Tape Reggae - STRATEGY

Audio clip: Adobe Flash Player (version 9 or above) is required to play this audio clip. Download the latest version here. You also need to have JavaScript enabled in your browser.