PAPER/UPPER/CUTS – "ILLA KILLA YELLOW SPACE"
12″ / DIGITAL
OUT JULY 28 2011!
After much preparation we are excited to unveil our newest Artist / Release…
The  orchestral tropical bass music of Paper/Upper/Cuts, aka Portland Oregon's David "Papi" Fimbres.
As an accomplished percussionist and multi-instrumentalist Fimbres wields an arc of pure infectious energy, and a rare cosmic control over the rhythmic and melodic spectrum. A deep exploration of Ancient and Future musics: The outcome falls somewhere between BLISSFUL DUBBED OUT CLUB MUSIC , RANCHERO TAQUERIA JAZZ, and the musings of a Mayan SUN RA composing for a TROPICAL ORCHESTRA of Synths, Flutes, Horns, and BEATS.
Rounding off the 9 tracks of intricate rhythmic bangers is a futuristic dubby remix of "Glacial Palms" by Boomarm Nation's own Gulls.
Paper/Upper/Cuts – "ILLA KILLA YELLOW SPACE" is offered in a special edition of 300 Marbled Yellow 12″ records, packaged in beautiful letter pressed jackets.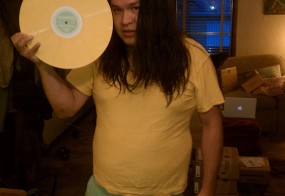 David "Papi" FImbres with the freshly pressed YELLOW Vinyl!
This release shines a bright light on West Coast musicality, and the free form energetic approach to art and life that we feel is essential to the evolution of our global boombox culture.
If this music moves you, please let us know by leaving us a comment below.