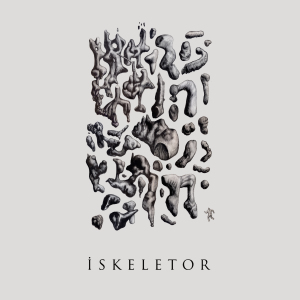 Iskeletor is the music of Turkish artist Kerem Sevinçli, a rising force in the bubbling Istanbul beat scene, Iskeletor is a regular contributor to the Tektosag collective and a coveted performer at the much-revered Istanbul club nights Pixie and Peyote. With Iskeletor, Sevinçli pulls energy from the creative fires burning in the community of independent and experimental Turkish artists, pushing forward a new wave of sound. Distilling the hard edges of noise and experimental music with the bombast and hypnotic structures of sample-based music, Iskeletor's music plays like a fever state. Hard rhythms swing razor sharp, cloaked in layers of noise and melody, arranged with both a playfulness and a refinement that feels fresh and ready to burn up your speakers.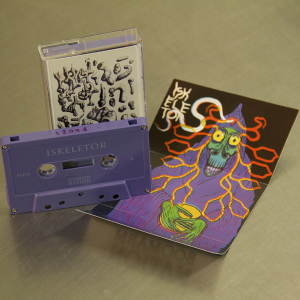 Served up on pro-dubbed bright purple high bias chrome cassette tapes, and housed in a full color 2 panel double sided J card designed by Turkish graphic artist's Bora Baskan and M. Kosemen. Mastered for your sound system and your BOOMBOX by Alter Echo.
We are proud to present the self-titled debut album by Iskeletor, a searing 30 mins of fierce experimental rhythmic sorcery for your sound system.
Limited to 150 copies
DIGITAL: itunes, Juno, Beatport, Ect Ect Ect.. 
European peoples look to REWIND FORWARD for exclusive sales to save on shipping! 
—–
iSKELETOR Gallows / Wa 7″
The A side tune "GALLOWS" is a stand out production from İSKELETOR's Cassette Album.
The B side tune "WA" is a monstrous production made exclusively for this 7″ vinyl edition. It will not be re-released on the cassette/digital version, SO DONT SLEEP!!
Rough and ready for the sound system, mastered by Alter Echo. Art by C.M Kosemen / Bora Baskan / Design by Heatwave Press.  Limited to 500 copies.
WE ARE SOLD OUT HERE AT HQ. 
Look to REWIND FORWARD / RED EYE / JUNO