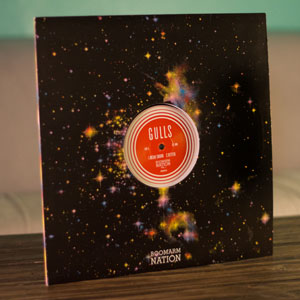 Gulls – "Mean Sound" EP
This Gulls offering represents BOOMARM NATION's first in a limited series of 12″ EPs. Two tracks of kaleidoscopic, future/orchestral dub explorations. With special guest remixing duties by STRATEGY (Kranky / Community Library).  
Limited to 300 copies.   Released Oct. 2010
(Includes Digital DWNLD)
PRESS:
"Portland, Oregon is a long way from any significant electronic-music hubs, and as for Jamaican influences—well, besides an out-of-the-way jerk chicken establishment or two, there isn't much. But that isolation also entails the freedom to experiment, a quality amply evident in the first release from Portland's Boomarm Nation, a label dedicated to "avant soundsystem musics" and inaugurated with an EP from the label founder's solo project, Gulls. "Mean Sound" is a strange beast, with a syncopated rhythmic base that's similar to dubstep and a 115-BPM tempo that couldn't be more unusual for the form. A brawny synthesizer bass muscles the tune forward, leaving a trail of incidental sounds and stray percussion in its wake. The sounds seem to come from the cheaper end of the vintage-synth spectrum, but they lend their own character to the production. "Vetted" is a mid-tempo dub-Techno jam fashioned from spindly synthesizers and oodles of delay, and from all the manic action in the background, you can tell that these are real knobs being tweaked in real time. Strategy (Paul Dickow) rounds out the release with a "Mean Sound" remix that adds triple-time drum fills and spring reverb around the main synth riff, sounding like some undiscovered electro-dub relic from the late '80s." - Philip Sherburne.
"Portland, Oregon label Boomarm Nation brings us a dynamic four-track outing of experimental brilliance by Gulls (aka Jesse Munro Johnson), which is being touted as the first volume in an intended series of limited-edition twelve-inch releases showcasing the efforts of progressive Portland minds. Johnson assembled each tripped-out track on Mean Sound by building samples (of his own playing) into dizzying whirlwinds of beat swagger, horns, and synthesizers. The A-side's title cut is more than a little aptly named, considering that it rolls out a fabulous future-funk cannonball of claps, beat rumble, and bleepy synth blaze. The head-spinner couples a hammering bottom end with fireball synth blasts that roar so powerfully they could peel one's scalp. Slightly less lethal in tone, "Vetted" drags an entire video arcade's worth of bleepy smears into its bass-throbbing dub swamp. The flip finds Strategy (Community Librarian Paul Dickow) catapulting "Mean Sound" into another galaxy altogether, this one a future-funk universe where the original's elements ricochet off of one another at light speed and where the synth blaze splinters into fragments. Brain-addling too is Gulls' own alternate mix, "Mean Sound Pdx-Slight Return," which stabs with a merciless, anvil-like intensity. The EP's tracks are sophisticated, dense, and club-ready, and disappear from view far too quickly—always a good sign. Let's hope future installments in the projected series are as good as this one."