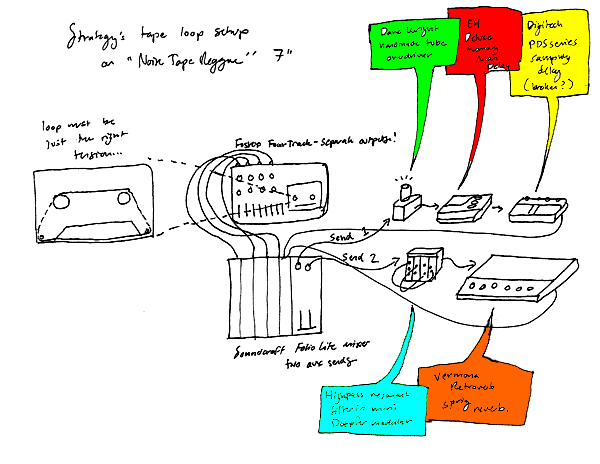 green: Dave Wright handmade tube over-driver, red: Electro-Harmonix deluxe memory man, yellow: Digitech  PDS series sampling delay (broken), blue: high-pass resonant filter in mini-Doepher modular, orange: Vermona spring reverb

*************************************************************************
A While back we dropped a sneak peak of the new Strategy 7″ NOISE TAPE REGGAE

After I did that post, Paul (Strategy) and I were having a hard core nerd-sesh, talking about DUB style effects routing, and the details of a 4 track cassette deck as a loop player. I asked him if he would draw a blueprint of his set up and provide a sort of verbal road map to walk us all through this beautifully analog process.
Thus the idea to start a nerdy Gear Geek out style post tradition here at BOOMARMNATION.
Ill pass it over to Paul…. big ups for the great explanation and fantastic drawing!
*************************************************************************
Strategy "Noise Tape Reggae"
"A four track is the heart of this setup, used with tape loops within a cassette. There are a lot of different cassette loop types, but this particular one was developed in the 1990s by my friend David Chandler (aka Solenoid, DJ Brokenwindow, Mr Pharmacist). He issued loop cassettes, a release on his Pharmacy label of 99 tapes, which came with his own sound on there but was intended in part as a tool for experimental musicians. David experimented with tape lengths until he figured out two lengths which provide a near-perfect tension without breaking or stretching the tape or impeding motion of the tape through the spindles of the cassette. He described his project in Thumb zine and that information is reproduced here:
http://www.cementimental.com/tapeloop.html
A four track is used for two reasons; variable speed (pitch knob) and being able to create four loops per cassette, greatly expands the musical potential. The four track that I use has 8 inputs and four independent outputs. For tape splicing, I obtained a new old stock Radio Shack brand tape cutting block, which has grooves not only for 1/4″ tape (such as you would find at your local studio supplies shop), but 1/8″ cassette tape as well.
For Noise Tape Reggae, part of the process was accidental. Friends have been giving me old cassettes to recycle into loop tape material. This tape had some reggae on it, Augustus Pablo but I'm not sure which songs/albums. Where I had been recording my own loops, in this case I used the material native to the splice of tape I had arbitrarily cut. This only occupied two tracks, so I bounced audio out to effects and back into tracks 3 and 4 to fill those tracks with more sound.
For "performance" of the loop material, I ran each track into a separate input of a portable mixer. Then I reproduced the "dub" methods inspired by the reggae on the tape (well, I work this way most of the time anyways…) by dedicating both auxiliary sends of the mixer to chains of effects which I could musically tweak in rhythm with the tape loops. The first chain features a Dave Wright (of Not Breathing) one-of-a-kind tube preamp/distortor, followed by Memory Man and old school Digitech delays. This is the dirty channel, extremely overdriven, with wobble provided by the Memor Man's vibrato feature. The second channel is a clearer, the audio is highpass filtered using a Doepfer multi-mode filter, modulated by an LFO. This is then run through a Vermona spring reverb unit. The dry tracks are mixed with the effect tracks, although the effect tracks are the primary motion and interest in the tracks.
The followup to this is Noise Tape Deadheads, part two of a trilogy of 7″ singles for Entr'acte based on cassette loops. Inkeeping with the first, I used only "found" source material. In this case, my friends and bandmates Michael and Sarah Hamilton-Braun gave me a handful of Grateful Dead tapes they found in a free box on the street. These yielded a wide variety of sounds in spite of pretty degraded tape material. I'm not sure yet what the third will be; it really depends on what tapes I find or am given."
-Strategy march 2009
************************************************
..AND HERE'S SOME EXCLUSIVE TRACKS FROM STRATEGY'S VAULTS WHICH UTILIZE THE CASSETE LOOP METHOD.  ENJOY!
**
Audio clip: Adobe Flash Player (version 9 or above) is required to play this audio clip. Download the latest version here. You also need to have JavaScript enabled in your browser.
**
Strategy – "Ominous Lovely Piano"
Audio clip: Adobe Flash Player (version 9 or above) is required to play this audio clip. Download the latest version here. You also need to have JavaScript enabled in your browser.
**
Audio clip: Adobe Flash Player (version 9 or above) is required to play this audio clip. Download the latest version here. You also need to have JavaScript enabled in your browser.