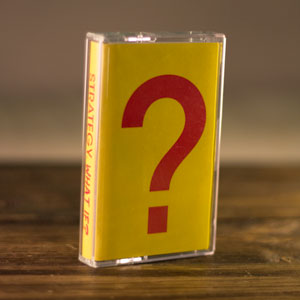 Strategy – WHAT IF?
Paul Dickow aka Strategy has the unique ability to constantly evolve his music, pushing himself and his listeners to uncharted sonic depths. All the while keeping his signature sultry swagger and melodic sensitivity on point no matter what the terrain.
On WHAT IF? Dickow, leads the listener into a dewy, labyrinth of rhythms that pulse and blister against an ever changing palate of sounds. Each track is steeped in a strong tradition of hardware based techno explorations, DIY circuitry, and traces of radiophonic tape loop experimentation.
Available on Tuesday December 04, 2012 in an edition of 50 cassette tapes, WHAT IF? was mastered by Pete Swanson, dubbed in house to cassette via a Marantz PMD430, and individually duplicated on a TELEX Stereo Copyette II for maximum fidelity.  THIS RELEASE IS SOLD OUT 

WHAT IF? is available digitally worldwide via, itunes, BOOMKAT, Beatport, ect..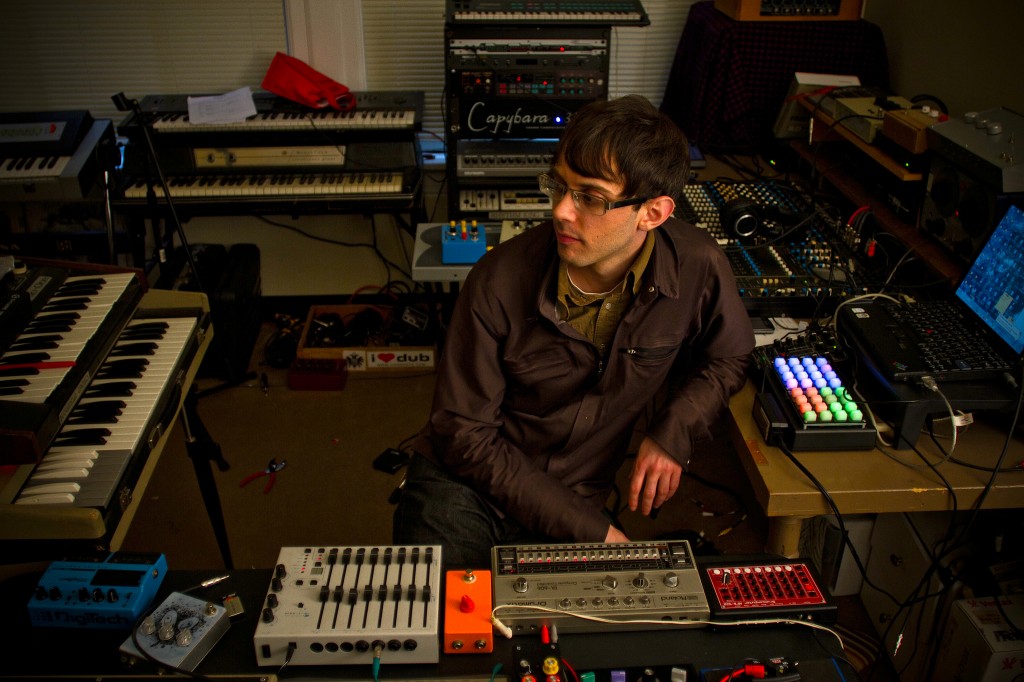 Press:
"For whatever reason, Paul Dickow's been noticeably productive the past little while, or maybe it's just that material recorded over a long duration has all appeared within a concentrated time span. Just prior to this latest cassette outing for Boomarm Nation (issued in a limited edition of fifty tapes, though available digitally, too), new Strategy material was issued on the upstart Peak Oil label (a self-titled album) and on ZamZam (the Dub in my System / Hardware Dub seven-inch single). In contrast to the single's singular dub focus, What If? finds Dickow covering multiple bases, with some tracks presenting his personalized take on dub and others exploring the world house style captured on previous releases. There's a generous assortment of it on offer, too, as the release adds up to fifty-four minutes of tripped-out Strategy sounds.
Following a wonky dub intro, "VidM" takes flight with a series of hyperactive episodes, some of them drowning in dub effects and others flirting with broken circuit beatsmithing. Lush washes spread out across the fidgety terrain in an attempt to exercise some control over the constantly flickering animation, after which "Valentines Dub" gradually broadens out a stripped-down dub groove into an epic soul-funk jam replete with chicken-scratch guitar. Aside from being a better album title, "Squid City" takes the listener on the lengthiest plunge in the form of a twelve-minute ride through Porter Ricks-styled territory. A pumping bass drum pattern powers the tune, which otherwise oscillates between two base chords and swims in a smeary bath of scratchy electronic grime.
What If? is the sound of Dickow boldly indulging his experimental impulses. Beyond "Petite What If," a brief smattering of warbly tape loop experimentation, there's "Baroque Inferno," a viral workout that oozes primal fury as it mutates between tropics-dazed dub and skeletal techno. Nicely sequenced, the album comes to an end on a less frazzled note with the relative ambient-dub calm of "The Party's Over" and "SWIC10"—relative the operative word, given the still-intense level of activity flickering through the latter track's dust-filled breeze. Much of the album possesses a grainy, ramshackle vibe that makes its tracks feel as if they're the latest postings from the Strategy product development lab." Textura – January 2013