POSTITIVE BLACK SOUL.
SO. This is Positive Black Soul.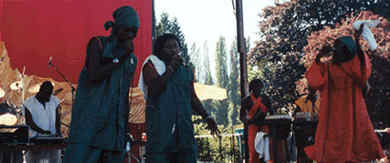 A crew of rappers and musicians from Dakar, Senegal.
Many credit these cats as some of the first pioneers of African hip-hop culture. They stand out
amidst the more generic carbon copy African acts replicating american gangster rap styles.
PBS's tracks blend traditional Mbalax style Senegalese music, with heavy beats and more traditional rap
aesthetics.
I was lucky enough to have seen PBS live at the height of there rein in july of 2000 at the WOMAD festival in Seattle WA.
.
Live they were absolutly on POINT. Complete with dancers, drummers, a kora player, a tama (talkingdrum)
player, and a DJ.
After the set, they did a more intimate "unplugged" style set on a small stage under a huge maple tree.
….lucky for us i was packin' heat in the form of a sony mini-disc recorder!
Check it.. I just re-discovered this recording in a dusty pile of old mini-discs buried deep in an unpacked box….this is a fully live uncut, acoustic version of the PBS song CAPSI..! As performed live on a tiny stage under a huge tree.
CLICKY CLKICK>>>>POSITIVE BLACK SOUL live in SEATTLE july 2000
+++++++++++
Here is a great video from the album version of CAPSI…! The beats are full of 90's east coast flavor….
WHAT! WHAT.

++++++++++++++++