FRESH OF THE MIXING DESK! THE BOOMARM FAMILY MEGA MIX IS HERE!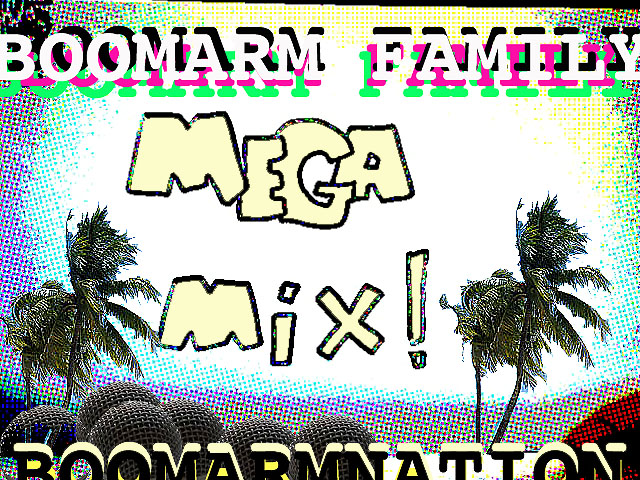 –
"Boomarmin" – BOOMARM SUPER MIX-vol1 by BoomArmNation
WHAT IS IT??— For the jump off celebration of this exploration in blogging as a form of sonic community building. We looked to a local crew of PDX sonic pushers. dropped a folder of cumbia and dancehall flavored loops into there inboxes. And challenged them to make a 40-60 second mix/version inspired or drawn from the loops. The 15 mixes received were spun by myself (JMJ Gigante / Gulls) into a tropical flavored PDX mix. Its a 12 and a half minute ride of serious grooves , bass drops, glitch, and heavy sonic spaces… Mad thanks and props to the participant PDX boomarm family!
THE LOOPS– To give you some context.. here are the loops that each artist recieved as a base for there constructions.
The frist is a loop taken from the song "La Samaria" by Colombia's Orquestra Nunez- From the fantastic SoundWays compilation
"COLOMBIA! THE GOLDEN AGE OF DISCO FUENTES".
BOOM CLICK>> CUMBIA LOOP
The second is a Dancehall/Grime inspired riddem from Gigante's sampler…..
BOOM CLICK>> RIDDIM LOOP
Beyond these…. every thing else you hear is the left to the individual and their version. BAm.!!! Feel this fire..!
TRACK LIST–
1- INTRO (gigante mash)
3- STRATEGY
4- OXYKITTEN
5- DR. DIESEL
7- RBLU
8- ORQUESTRA NUNEZ – GIGANTE REMIX
10- PAUL WIG
11- GULLS
12- ORQUESTRA NUNEZ
13- STUDIO GEORDIE
14- NEGLECT
15-AUDIOCRIP
16- IFSH
17- JIPPEDO
"Boomarmin" – BOOMARM SUPER MIX-vol1 by BoomArmNation
((((((((((((((((((******DOWNLOAD IT*****)))))))))))))))))))
THIS IS A CALL TO THE WORLD , KNOW THIS… THE UNDERGROUND IN PDX IS ALIVE AND WELL. WE ARE NOT BREAKING RULES, BECAUSE HERE THERE ARE NONE. ITS ALL LOVE AND RHYTHM UP IN HERE. PLEASE LISTEN AND ENJOY.—!
Peace! JMJ